Super Secret Baby Shower Planning
It's probably not the wisest of ideas to post a surprise creation on the worldwide web, but I couldn't help myself. Below is the development of ideas for our friends, Matt & Jen's baby shower. Fortunately, they don't know about this here blog - so I think I'm safe.
The Invitation is the first photo. It's a textile art creation incorporating a background of sand. The shower details will be printed in the blue wavy "water."
And as their gift, I'm designing a textile art relief. The beginning characters for the relief are below. The nursery is to be done in happy crabs, funny fish, and other sea world wonders. I hope that what I have in my mind lends itself to the final product.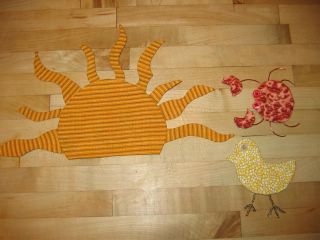 Above, are the sun, happy crab and silly little bird. It's going to be an ocean scene, with several more textile characters.
Labels: invitation, textile art, wall art