Back-tack'd
My Back-tack project is now complete after the anxiety of waiting until the very...last...minute... Doug was away this weekend on a Boy's Camping Trip, so Kenzie's nap/bed times were mine -- all mine. I surveyed the website of my backtackee, and learned she is a knitter & a world traveler, and designed the items to align with those facts.
Here is the completed project: A bag for yarn and a pouch for other knitty-stuff.
Here is the finished bag alone...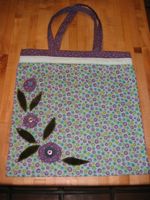 Here is a close-up of the bag detail...
Here's the Pouch...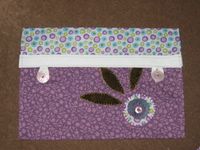 And, a close-up of the pouch detail...
It's nice to have the project complete. My sewing machine acted up a wee bit with some skipped stitching action, but I persevered, and cursed a lot. AND, the IRONY! The backtacking function wouldn't work at all towards the end of the project. So, it's NOT perfect, but cute. And I was really struggling with how to make it lively with the fabric selections that I received. "H" (anonymous sender) sent some lovely items, but the fabrics and ribbons were not in one color scheme -- so I had many options and felt a little overwhelmed by that. I actually cut the ribbons apart and used them for the embellishment details. Overall, I'm a little sad to send it away -- but, I'll receive something fantabulous as well. I've seen a few of the other creations -- and the skills of some of the other participants clearly blow mine away.
Ah well, it's been a fun experience to exhaust some of my pent up creative juices. I hope there will be more to come.
**Afterthought: Apparently, I was supposed to photograph the bag stuffed full of the notions before mailing it to my sender. I simply cannot follow directions, damn it! After reading my recipients blog - I included a container of fun buttons, a really neat tape measure, a unique pin cushion, a keychain mending kit (she's a traveler), dark chocolate truffles (she loves dark/hates white chocolate), a stuffed donkey Pez keychain (she collects Pez dispensers and this one was WAY unique!) and some other items that I simply can't remember!
Note to self: FOLLOW DIRECTIONS!
Labels: craft-a-long